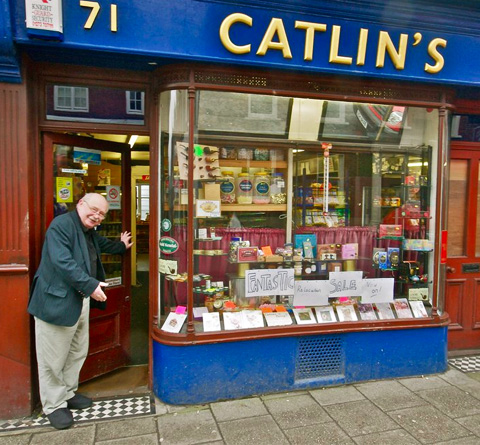 Image credit Si Frost
Stephen, known to all in Lewes as Catlin, sadly passed away on the 5th of June 2023 after a long battle with cancer. Back in 2013, a couple of years after "Catlin's" had closed its doors, he wrote the following epilogue:
"Catlin's as a tobacconist started in Broadstairs in 1998 and when it moved to Lewes it inhabited the premises known as F.E. Hall, although the Hall family had ceased to be associated with it since, I think, the 1980s.

It had been taken over firstly by Mrs Burrell until the great storm of 1987. It was found that the landlord had under-insured the building, and he looked to Mrs Burrell for the extra cost of rebuilding. The building had lost the back of the first and 2nd floor and the roof in the storm. Mrs Burrell sold it on to the Felsing family and it became Catlin's in 2000.

Increasing rents and rates plus a decline in tobacco sales really put the kibosh on it, and although we moved to the Needlemakers the writing was on the wall and it closed in October 2011.

However much the affection in which it was held, the truth is that it was never a goer, and it was only due to receipt of family bequests that it ever kept going at all. I had nothing out of it for myself, and was about to be homeless when I moved to Clevedown. It was a good social venue - but not a profitable business!"
Stephen kept himself busy in the years that followed, including being elected to the Town Council in May 2011 and elected Mayor of Lewes in May 2021. He was often to be found tending the public flowerbeds and planters in the town, and keeping an enthusiastic journal of their condition on Facebook.
This site is maintained by James Tiplady, who as a schoolboy in the early 2000s was a regular at Catlin's availing himself of Ginsters pasties and bulk packages of Polos. With his schoolboy's understanding of political thought he also designed an amusing flyer which was briefly available in the shop, and is reproduced below.